HOW TO APPLY TO STUDY IN CANADA
Back
If your plan is to study in Canada you may need a Student Visa. However all courses with duration of 6 months or less does not require a Study Permit; you can apply for a Visitor Visa or even an Electronic Travel Authorization, depending on your country of Citizenship.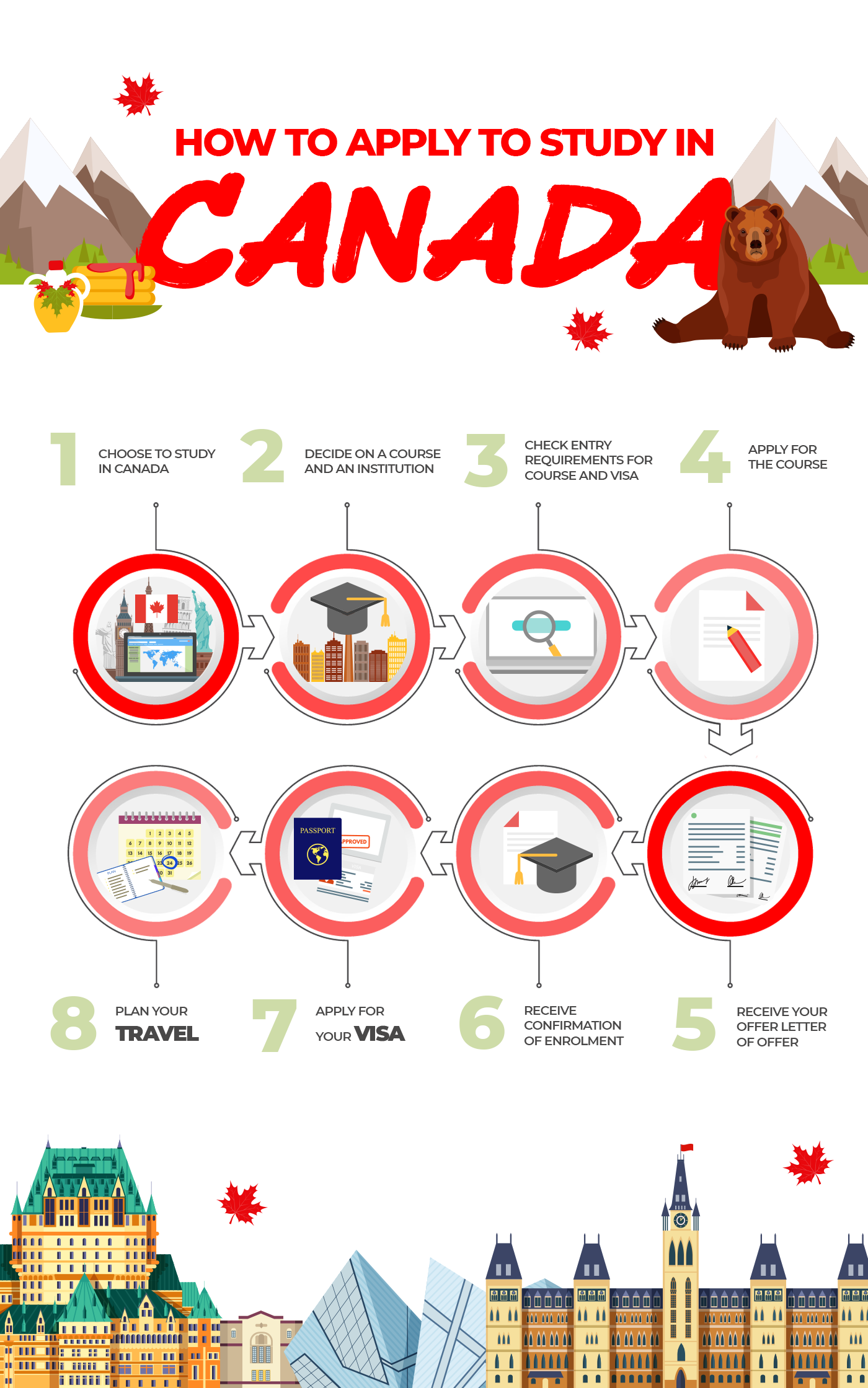 STUDENT VISA TO CANADA
If your course length is over 6 months, than you will need a Study Permit granted before you arrive in Canada your Study Permit will be valid for the length of your course plus 90 days. Please note that your study permit is not a visa. It alone doesn't allow you to enter Canada. You may also need a temporary resident visa or an electronic travel authorization (eTA). If so, the Canadian Immigration will issue it as part of your study permit application. Timeframes can vary, but we recommend you to apply for a Visitor Visa at least 30 working days before your travel and for a Study Permit within 4 to 5 months before your course starting date.
ELIGIBILITY REQUIREMENTS
You can study in Canada if you:
are enrolled at a designated learning institution (DLI)
are a genuine student
show proof that you or a close relative have enough money to pay for your: tuition fees, living expenses for yourself and any family members who come with you to Canada and return transportation for yourself and any family members who come with you to Canada
obey the law, have no criminal record and not be a risk to the security of Canada. You may have to provide a police certificate.
are in good health. You may need to complete a medical exam.
convince an immigration officer that you will leave Canada at the end of your studies.
Your visa application can be made online through Canadian Immigration website, please make sure you have all documents needed before lodging your application
DOCUMENTS CHECKLIST
School Proof of Acceptance
Proof of identity:
Passport
Passport size photo
Proof of Financial Support
proof of a Canadian bank account in your name, if you have transferred money to Canada
Guaranteed Investment Certificate (GIC) from a participating Canadian financial institution
proof of a student/education loan from a bank your bank statements for the past four months
a bank draft that can be converted to Canadian dollars
proof you paid tuition and housing fees
a letter from the person or school giving you money or proof of funding paid from within Canada, if you have a scholarship or are in a Canadian-funded educational program.
LETTER OF EXPLANATION
This letter will help to explain your situation for the visa officer, make sure you will include reasons why you want to study in Canada, and that you understand your responsibilities as an international student.
CERTIFICAT D'ACCEPTATION DU QUéBEC (CAQ)
If you will study in Quebec, you need a Certificat d'acceptation du Québec (CAQ) issued by the Québec government. Your school can give you all the details on how to apply for the CAQ.
CAN I WORK WHILE STUDYING IN CANADA?
Different from countries like Australia, Canadian immigration will only issue work permit for students enrolled in a vocation course (Colleges). In this case you will be granted a part time working permit. You will be able to work up to 20 hours a week during your school term and up to 40 hours a week during your holidays.