The USA is one of the most important destinations to study abroad. If you plan to leave and study there follow this guide to understand about the process of getting the right visa.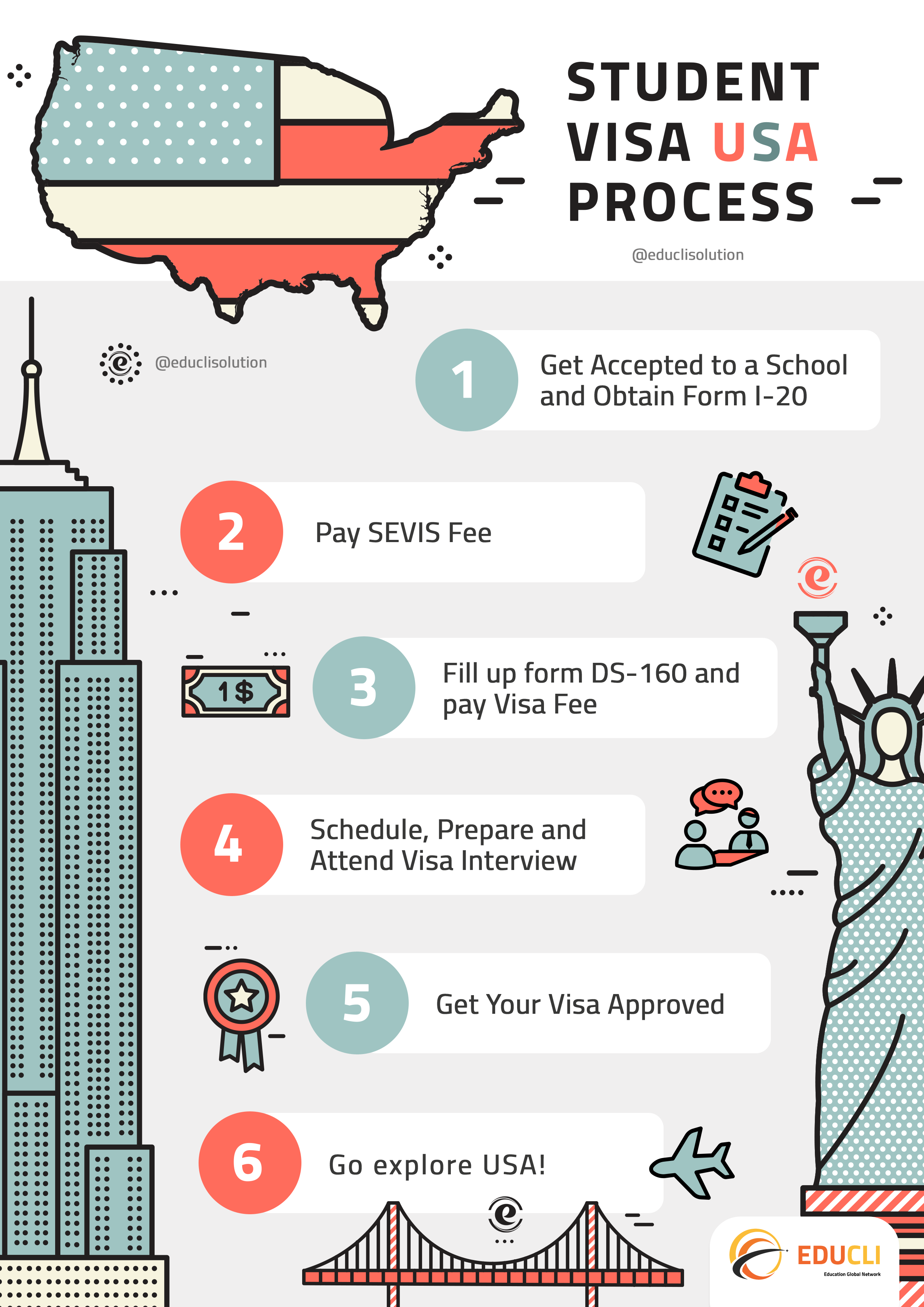 THE F1 STUDENT VISA
All students applying for a course with more than 18 hours a week will require a F1 visa. This include Elementary School, High School and Higher Education programs (undergraduate and post graduate).
THE M1 STUDENT VISA
This type of visa is dedicated for those applying for Technical and Vocational schools; it is similar to the F1 however this is a time stamped visa and students cannot overstay their visit.
STEP BY STEP VISA APPLICATION
Step 1 – Obtain Form I-20 The I-20 is the document that schools issue to students who are going to study with them full- time. It enables students to apply for a student visa at their local American Embassy. You will need to send your application, documents and payment to the school to be able to receive the I- 20 form.
Step 2 – Pay SEVIS Fee We recommend you to pay SEVIS fee and print your receipt before applying for your student visa. The United States Department of Homeland Security (DHS) uses SEVIS fee payments to fund and maintain the Student Exchange Visitor Information System (SEVIS), the immigration database used to process documents for international students and exchange visitors during their stay in the United States.
Step 3 – Fill up Form DS-160 and pay visa fee DS-160 is the online application form for your student visa to the USA. Make sure you fill it up correctly with your details and pay the Student Visa Fee. Don't forget to print your application form confirmation page to bring to your interview.
Step 4 – Schedule and attend a Biometric appointment and Interview appointment. Your next step is to book your biometric and visa interview. There are some countries or specific applicants who might not need to schedule their biometric appointment, but you must check with the US Embassy and ask whether you have to complete this part of the visa application process. It is very important that you have all documents needed to present in your interview and prepare yourself for the questions that you will need to answer. It's important to say that maybe you would not be asked for any documents other than your application/ appointment letter, but we think is always better to be prepared.
Step 5 – Get your visa approved You will be informed during your interview if your visa was approved. They will keep your passport to process your visa and then will send you by mail.